Today is a very special episode because it truly is an inside look into Sweet Spot Strategy, my online masterclass meets mastermind. I know that often people hear about programs and online courses and online groups and they wonder – What kind of support do I really actually get? What kind of access to Racheal do I really get?
And while we have regular Q and a calls, something that I've seen in the nine years of running this online program is that sometimes questions come up often enough or I see a pattern with enough clients that I know we need to go deeper than just a five-minute response on a Q and a call, right?
I know that we need to really address a bigger problem.
Sometimes it means making a small mini-training. Sometimes it means making a resource. Sometimes it means putting together a system or a guide that they can use to implement or a template or a tool.
And over the years we have developed a lot of things to help answer different questions that have come up that have slowed down people from starting and scaling their service-based business.
But when this question hit our group and had so much great conversation the thread that I was watching for a day or two before I jumped in with the response I'm about to share with you, I knew that it was something that a lot of people struggled with and thought this would be such a great episode to share.
So this question was posed by Rachel Bailey, who is an amazing parenting coach and she shared in our group this question.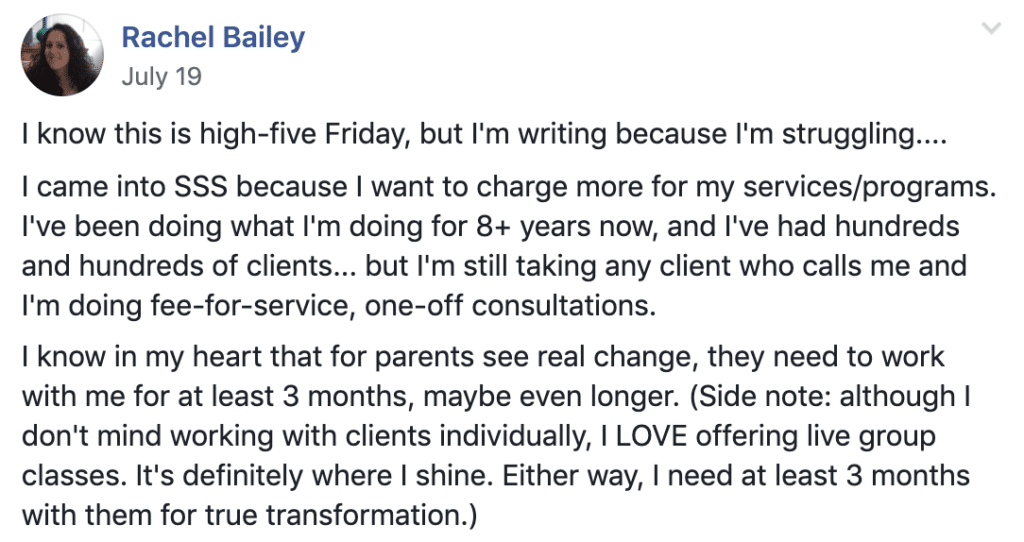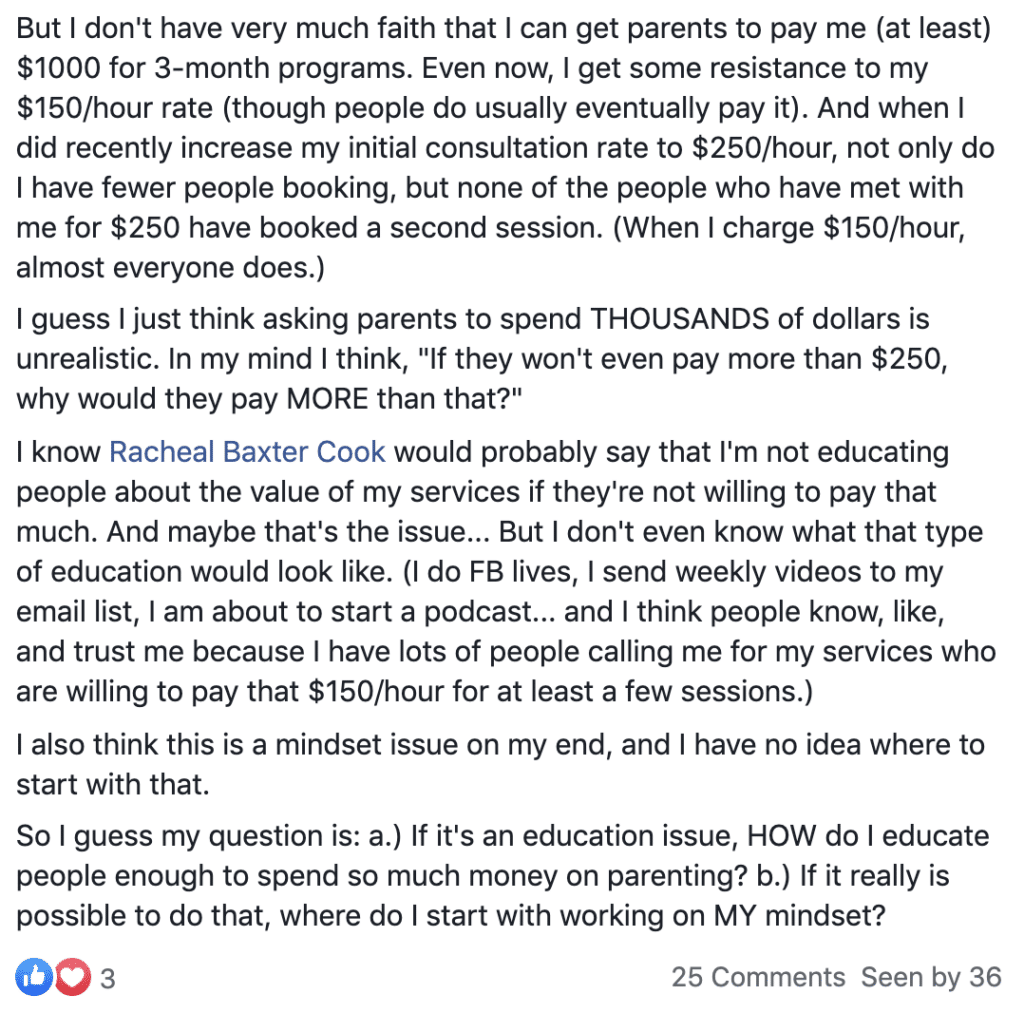 Here's what I told my Sweet Spot Strategists:
7:00 When looking at the problem, the obvious goal may be to get people in at a higher price point, or for a longer program, but you may have to set some new expectations for your clients first. Especially since transformational, coaching work takes time to reach lasting results.
10:00 To teach those new expectations, you've got to educate your people, and that comes through in your marketing. You can create a framework for engaging with your prospective clients and educating them on how you get results with a Customer Journey.
15:00 How can people seeking the help of a coach recognize the urgency in addressing their need (since coaching through an issue takes a lot of time to resolve) before they reach a critical point in their marriage, health, business, parenting, etc?
20:00 You can help remind your audience that the decisions and progress they make today will ultimately decide their future, likely in more ways than one. Clients taking action sooner rather than later (with urgency *wink wink*), will more quickly be on the track toward the resolution, the future, and the outcome they want.
25:00 And yes, mindset is a part of this. (YOU may need to change your mindset from how most people in your niche do marketing.) Make sure you consider what your prospective clients need to believe in order to change their situation.
26:00 Besides time, you may need to guide your audience through mindset shifts about money as well. Yes, hiring a coach costs money. But what are they already spending money on to try to solve the problem? Shiny new planners, fancy gifts, diet pills, toys for their begging and crying kid in the store? Truth is, these bandaids won't help them get where they're wanting to go.
28:00 People who really need a coach, likely feel defeated and that they can't do it themselves. They're the ones that most need the accountability, support, and emotional support you offer as a coach. So you're going to have to convince them that they CAN do this, make a change, and do things differently so they see the results they want.
30:00 Part of the transition too will likely require a shift in your sales process. You have to be careful about letting people just email, "Hey, can I book a session?" because they may not yet know what they NEED. When they reach out to you, you need to reach back and lead them through a consult/strategy/discovery session so you can understand their true needs and suggest the best strategy going forward.
36:00 The biggest thing we have going against us is most of the people out there who are putting themselves out there as coaches are really just bandaids. The way they're approaching their marketing, the way they're approaching their sales is just, "You have a question? I have an answer."
But that's not how coaching works.
Coaching is about transformation.
And you need to enroll them in that process so that they know it's going to take a little time. It's gonna take some practice and you're here to give them tips. You're here to help them see where they can do better.
So there you have it, friends!
I'd love to hear your insights and ahas from this episode – take a moment to screenshot the show and share with me on Instagram @racheal.cook or leave a review on Apple Podcasts.
---
Listener Shout Out!
Today I have to share a review left on Apple Podcasts that honestly made me laugh out loud:
Jillian, I am SO glad the show is serving you and SO grateful for your review! Thank you for sharing your feedback with the world and helping the show reach and serve more people.
---
Masterclass Registration Open Now! (Psst…It's Free!)
If you want to learn more about my holistic approach to life and business, I'd love for you to join the upcoming masterclass I'm hosting on October 1st and 2nd, The 3 Essential Strategies to Designing a Predictably Profitable Business Without Hustle or Burnout.
---
Show Links
The Customer Journey (My marketing framework for creating a predictable profit strategy)
My own top 3 mindset shifts for entrepreneurs
How to plan consult calls that serve
---
Subscribe & Review Promote Yourself to CEO
Did you know that you can find over 200 episodes on Apple Podcasts? I don't want you to miss an episode. I'm adding a bunch of bonus episodes in the coming months and if you're not subscribed there's a good chance you'll miss out on those. Click here to subscribe in Apple Podcasts!
And if you're loving the show, it would mean the world if you would take just a minute to leave a quick review! When you leave a review, it helps other women entrepreneurs just like you discover my show, and honestly, it just makes my day! Just click here to review, select "Ratings and Reviews" and "Write a Review" and let me know what your favorite part of the podcast is. Thank you!