Have you ever noticed how us entrepreneurs tend to feel like things aren't happening quickly enough… but we pause and reflect, we can see how far we've come in just a few short years?
Just two and a half years ago, a group of amazing women got together and recorded a little series of podcasts about how you can grow your wellness business and we ran into each other again at She Podcasts Live in Atlanta this fall. So we decided to pile into my hotel room, set a microphone up on the ironing board, and record an update episode!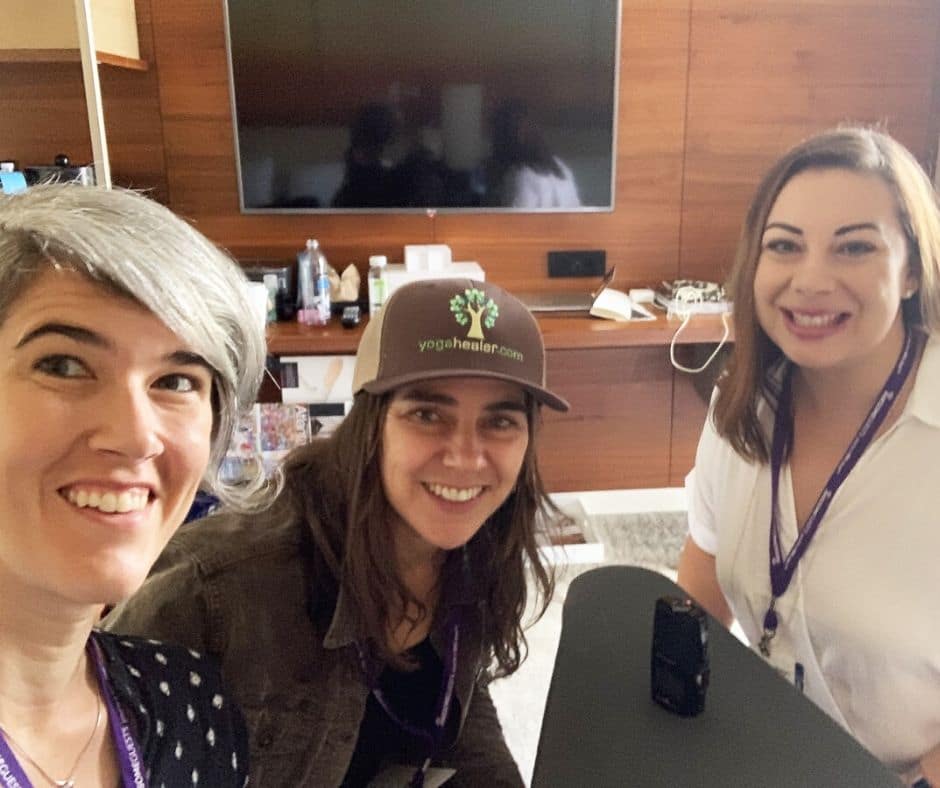 Stay tuned and find out what happened in my wellness and professional past in the last years, how Amanda has pivoted her brand, what helped Cate cross the $1M revenue mark, how to balance between audience and yourself, how to build successful online marketing and when you don't need it, how these women deal with social media, and more!
Here's what you will hear in this episode:
2:56 Why I evolved away from the brand The Yogipreneur, shifted into my personal brand Racheal Cook MBA, and what is coming in the next iteration with The CEO Collective in 2020.
4:40 How Amanda expanded the vision of Wellpreneur to come more into alignment bringing together all her skills into a new direction even when she was terrified and worried people would be upset with changes.
5:55 Cate's wisdom about how we outgrow parts of our business just like our kids outgrow their shoes – and how the Wealth Dynamics profile can help you understand how to optimize the value in the marketplace in real-time.
7:55 Why we need to pay attention to our current clients and community in addition to what WE want to focus on in our businesses.
9:02 What it means to follow your intuition and how following that intuitive hit helped me launch The CEO Retreat without a clear plan or strategy for the long-term vision of that particular event.
14:00 One thing we all agree on – you don't need to stress about building a huge online audience to get your first few clients! Don't let building an audience turn into a way to avoid getting in front of people.
18:15 Why real conversations with potential clients is crucial to inform your marketing process to help ensure that you are truly educating and meeting the needs of your community and clients.
23:30 How we all manage social media and online marketing completely differently – from Cate having her team managing everything to me connecting with people via Instagram DMs.
You can also listen into the previous series we recorded in 2016 – and find all the old Yogipreneur Radio episodes still out there on Soundcloud!
Connect with Us Online:
Cate's Facebook + Instagram
---
The CEO 90-Day Planner is here!
As you look ahead to 2020, make sure you're setting yourself up for growth and success! Check out the brand new CEO 90-Day Planner, designed after my own personal planning journal for business and life, and now made available to you!
---
Subscribe & Review Promote Yourself to CEO:
Did you know that you can find over 200 episodes on iTunes? I don't want you to miss an episode. I'm adding a bunch of bonus episodes in the coming months and if you're not subscribed there's a good chance you'll miss out on those. Click here to subscribe in Apple Podcasts!
And if you're loving the show, it would mean the world if you would take just a minute to leave a quick review! When you leave a review, it helps other women entrepreneurs just like you discover my show, and honestly, it just makes my day! Just click here to review, select "Ratings and Reviews" and "Write a Review" and let me know what your favorite part of the podcast is. Thank you!