Do you think of yourself as a CEO?
For years – I didn't. I happily thought of myself as 'just an entrepreneur'.
That's it. Just a humble small business owner, doing work that I loved from home while I raised my babies.
After all – who was I to give myself the title of CEO?
My business didn't have dozens of employees.
My business wasn't generating millions of dollars.
My business wasn't a household name brand like Spanx!
Sara Blakely could call herself a CEO – she had all those things!
And because she was the CEO of Spanx, she had the confidence to pitch her products to Oprah or Nieman Marcus. She had an entire team to support her in growing her business. She had funds to grow, grow, grow!
But here's the thing –
She had NONE of those things when she started as CEO. If you haven't ever heard her story – she started with $5K and an idea. She didn't wait until she HAD the confidence or the team or the connections or the funding – she just SHOWED UP.
She landed that Nieman Marcus deal by taking the buyer to the ladies' room and literally showing her wearing white pants without Spanx – then white pants with Spanx.
That's the opposite of a fancy pitch – that's connecting on a human to human, woman to woman level.
What I've learned from watching amazing women CEOs and leaders like Sara is you can't wait to have more time, more money, more followers, or more team to take your business seriously.
Check out these photos that Sara Blakely shared over on her Instagram about how the shipping dept went from just her in her 2 bedroom apartment to an entire warehouse that ships out Spanx all around the world. AMAZING right? That's just a 20-year difference!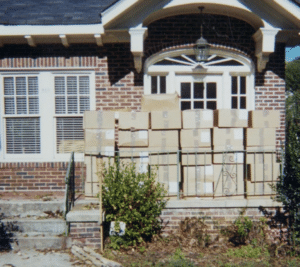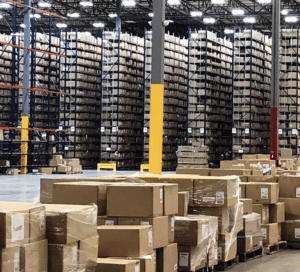 You have to start showing up LIKE THE CEO of the business you want to build.
So today, I want to talk with you about defining YOUR ROLE as the CEO of your business:
5:50 How I've become the bottleneck that slows down my business growth – and what I'm doing to get out of my own way
10:45 The 5 key roles of a Traditional CEO – and how you can adapt them to your role as an entrepreneurial CEO.
12:36 My favorite exercise to get clarity on your vision for your business is the Painted Picture (now called the Vivid Vision – you can download that chapter free right here off his website) from the book Double Double by Cameron Harold.
13:05 What do you stand for? Listen in to this CEO Confession episode to learn more about how I got clearer on my mission for my business.
13:40 Why even a company of one has a company culture! How to define your values for yourself, your brand, your team – and one of our key values Life Before Business
16:35 My favorite CEO task – strategy and planning! (No surprise – this is why we host a quarterly CEO Retreat.)
19:40 How my Operations Director Amber is a key role to help me stay focused on leading the team while she manages the day-to-day operations.
20:15 If you don't have a #2 – you'll spend more and more time managing other people! This is tricky and can quickly take you away from the other key tasks that you need to be responsible for.
21:20 The most challenging role as CEO! It can be scary to be the key decision-maker but at the end of the day, it's up to you to decide how to allocate resources, what strategy you stick with, and what products/services stay or go.
23:15 CEOs don't crowdsource decision-making – they have a group of trusted advisors who know their business and know their vision to ask for feedback and advice. Who is your Board of Advisors?
24:45 How do we handle these CEO-level roles AND make sure that we are still doing the things that we need to do to grow our business? We have to define our role not just as a CEO – but an ENTREPRENEURIAL CEO
26:13 The key questions that I ask myself when I realized I needed to get clear on my role as the CEO of my business:
Where do you provide the most value to your business? What is the highest and best use of your time and energy?
What drives RESULTS for your business? Not sure? Look at the last 10 clients you booked – where did they come from?
What is your Zone of Genius? Be careful – this isn't your zone of excellence. This is the work you simply can't outsource.
30:46 How these questions helped me boil down my Top 3 Essential CEO Tasks – Content, Clients, and Connecting – and what I do for each of these task areas.
38:30 How I plan my week around these CEO Tasks – including my Monday CEO Date – and using my model calendar to block chunks of time for my Top 3 Essential CEO Tasks.
Today's Challenge! Spend some time journaling on these questions: Define Your Role an Entrepreneurial CEO – What is your role as CEO? What are your essential 3 tasks areas? Write Your Job Description. What is the CEO of your business taking ownership of?
If you loved today's episode – please take a screenshot of today's episode and share on Instagram – tag me @racheal.cook – and let me know your essential 3 CEO tasks!
---
Show Links
Double Double by Cameron Herald
How a CEO Date Keeps Me On Track
The Broad – Richmond Coworking Space for Women
Rebelle Con + Rebelle Community
Claim Your CEO Date Checklist
For every hour you spend planning, you save 10 hours in implementation! That's why I always start my week with a CEO Date. Download my checklist now!
---
Listener Shout-Out

Before we begin this episode, I wanted to take moment to say thank you for tuning into the show and listening to me twice a week. When I'm recording each episode – it's literally just me and my microphone all by myself in my office – so it's easy to wonder if there is anyone really out there listening! That's why I want to take just a moment for a listener shout-out.
Thanks so much, InhaleLife! You nailed my mission for this show – to provide practical and profitable strategies to up your game.
---
Subscribe & Review Promote Yourself to CEO
Did you know that you can find over 200 episodes on iTunes? I don't want you to miss an episode. I'm adding a bunch of bonus episodes in the coming months and if you're not subscribed there's a good chance you'll miss out on those. Click here to subscribe in Apple Podcasts!
And if you're loving the show, it would mean the world if you would take just a minute to leave a quick review! When you leave a review, it helps other women entrepreneurs just like you discover my show, and honestly, it just makes my day! Just click here to review, select "Ratings and Reviews" and "Write a Review" and let me know what your favorite part of the podcast is. Thank you!
---
Claim Your CEO Date Checklist
For every hour you spend planning, you save 10 hours in implementation! That's why I always start my week with a CEO Date. Download my checklist now!