These days it's really easy to believe that your business should be 100% focused on creating passive income, or an online course, or some sort of digital product.
But this past year, I experimented with something completely out of the norm for an online business. I started hosting a 1-day, live-in-person event called The CEO Retreat.
Now today I want to share with you all of the lessons I've learned in the past year from hosting, what has now become a quarterly 1-day planning event, and serving over 100 women entrepreneurs IN PERSON, and why I've absolutely fallen in love with hosting these 1-day events.
#1: The Plan
One of my greatest tools for helping me break down my big picture plans has been my Best Year Ever Challenge. And by sharing this with my clients and making it free to my community, I've been able to help people break down, month by month, their path to success.
But I noticed people kept coming back, asking how to break down even more, or that they need more support… I knew I could help.
So following the challenge in 2017, I tested a deep dive planning workshop by hosting the first virtual workshop following the Plan Your Best Year Ever Challenge (which you can still join!). I didn't leap directly into a live, in-person event until I could really vet the idea.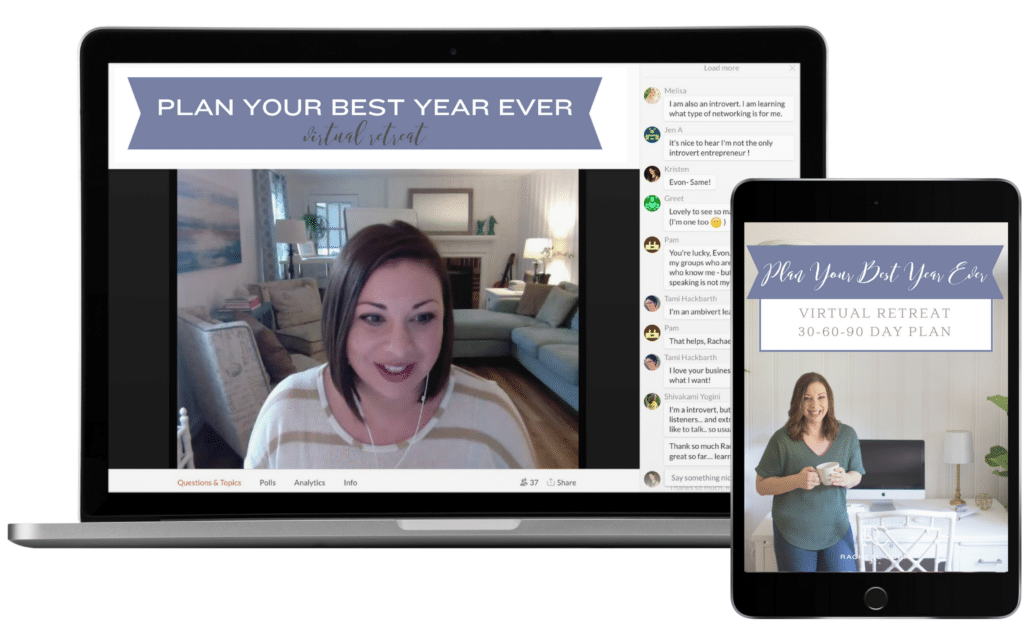 And, I knew I should spend some time at workshops over the year to learn directly all that they entailed, what ideas I liked, what I didn't like, and start imagining all the elements I wanted in my event, and planning time and budget for those.
#2: The Test
So in November 2017, I was ready and began promoting for my first live in-person CEO Retreat in January 2018. Giving myself the time to promote was essential; though tickets were only $297, I knew clients needed time to consider the offer, make time for travel, as well as budget for the cost of traveling.
Most important for making sure this first event would be a success was asking my clients and super-fans to share the details about the event to their colleagues and community.
I treated my super-fans to complimentary tickets, offered the event as a bonus to my Sweet Spot Strategy clients, offered a coaching call as a Thanksgiving Special, offered a $100 discount to existing clients… and all this led to (among other things) a good mix of existing clients and new clients signing up.
Then, a bit unexpectedly, requests for a virtual option really started to pick up. So 2 weeks before the event, we decided to make it available and set to all the techy work with Zoom so we could stream people in to the workshop.
I'm so glad we added the virtual option, because with 35 people in the room and 22 joining virtually, we ended our first live CEO Retreat with over 50 people! Amazing!
#3: Moving to Quarterly Retreats
Very soon after that first event, I had clients asking me when the next CEO Retreat would be.
And I realized, while they might know the content and the strategies they need, what they're really looking for is accountability.
It's no different than hiring a coach, or personal trainer, or nutritionist. Because they know if they do, they'll carve out that time in their calendar, and they will make it happen.
So over the corse of the year, I ended up hosting 4 quarterly events. And being in the room with like-minded entrepreneurs and being able to help them map our their plan and break things down has been the most amazing experience.
#4: Lessons Learned
Now it wasn't all easy. There's a whole new world of logistics that need to be taken care of for a live event than virtual, and I've made a shortlist of some of the challenges we faces and lessons learned from this year of live workshops.
The biggest detail was, of course, location. But once I'd decided on the city for each event, we had to search for a smart and affordable way to book an event space. Breather has been the best service for this, and works sort of like an AirBNB of conference rooms. (You can use the code W6YM6N for $45 off your next rental!)
The next expense (that can really get away from you!) is food and snacks. There's a great value of keeping it all in the space, and everyone focused, and the atmosphere intimate, so arranging for food to come to us felt best.
The third expense that sort of flies under your mental radar is the materials. If you're providing packets or workbooks, branded pens and post-its, and any other swag, it's all too easy to forget to account for their expense; so make sure you take into account a bigger budget for office supplies and materials in advance of an event.
All of that to say, by the time it all added up for us, I realized that the pricing was way too low. So we increased the price to $497/$697 with early bird, to better reflect the value that I was offering and cover the expenses, including travel for myself when I held events across the country.
Now a minor question people had was where they could connect virtually and get support outside the 1-day event. And what I decided on was a pop-up Facebook group, that opens leading up to the event so people can connect and last for only about a 6-week window.
As for the bigger planning and promotion of each event, I learned that 8-weeks in advance is the sweet spot. People need to make sure they can arrange to attend a live event, and budget both time and money for it; it is not the same as getting ready for an online course.
One of the most successful types of promotion that helped was doing Instagram Takeovers with people who attended the event, letting them share their experience with me so I could make an Instastory directly from a happy customer! This was a totally new way to share a testimonial that knocked it out of the park for us. You can see some examples on my Instagram highlights!
So there you have it, friends!
So what's next for the CEO Retreat? It'll be back next year!
It's been such a huge inspiration to me seeing all these amazing women entrepreneurs in person and watching all the a-has and success stories literally being written! Retreats have already been planned for this year and I just can't wait to get to know more people in this way and get you where you want to be with your business and your life.
---
Listener Shout Out of the Week

Thanks so much, MarshaQ29! I love hearing how you're able to not build a business you love, but have that live that you love! I'm so grateful for you as a member of the community and listening every week.
---
Subscribe & Review Uncomplicate Your Business
Did you know that you can find over 100 episodes of Uncomplicate Your Business on iTunes? I don't want you to miss an episode. I'm adding a bunch of bonus episodes in the coming months and if you're not subscribed there's a good chance you'll miss out on those. Click here to subscribe in iTunes!
And if you're loving the show – it would mean the world if you would take just a minute to leave a quick review! When you leave a review, it helps other women entrepreneurs just like you discover my show – and honestly it just makes my day! Just click here to review, select "Ratings and Reviews" and "Write a Review" and let me know what your favorite part of the podcast is. Thank you!
---
Show Links