One of the most common marketing failures I see with my clients is them not realizing who their dream customer is.
If you don't know WHO you're marketing to, it doesn't matter WHAT you're marketing – your people won't even notice!
Even if what we have to offer is a perfect fit, not offering it in the right way makes all of the difference between making a sale and someone completely missing us.
That's why I'm so excited to welcome guest Mado Hesselink to the show! Mado completely transformed her life and her business by taking my course, Sweet Spot Strategy, and taking on the 100 conversation challenge.
My conversation with her continues this series on all things marketing, and what you should be doing to make marketing work for your business.
If you've been struggling with your marketing, this episode will help you get into the hearts and minds of your clients!
On this episode of Promote Yourself to CEO
2:42 How the curse of expertise (one of the top 3 reasons your marketing isn't working for you) is holding you back from connecting with your ideal clients.
3:23 Why traditional ideal client avatar exercises don't work in real life, and what you should do instead to figure out this crucial part of your marketing to attract more dream clients.
4:31 A few years ago, one of my incredible clients Tami Hackbarth took the idea of talking to 100 potential clients and ran with it – officially creating the 100 Conversation Challenge which we discussed on the podcast here.
4:49 Introducing this week's special guest, Mado Hesselink, Founder of Yoga Teacher Resource and Host of Yoga Teacher Resource Podcast
7:13 Mado shares her personal journey from yoga teacher struggling to piece together income from multiple classes per week, and what led her to deciding to take 100% ownership of her career and step fully into entrepreneurship.
10:37 How 100 conversations with yoga teachers helped reveal the multiple layers of challenges yoga teachers across the country were struggling with and the similarities between all their struggles that led to Mado's next step in her business.
12:37 How the first 30ish conversations inspired Mado to start The Yoga Teacher Resource Podcast to help more yoga teachers to learn from the conversations and insights.
14:15 Why co-creation with your community is the best way to consistently attract new customers and keep the inspiration for new content and offers flowing.
15:44 How The Yoga Teacher Resource Podcast grew quickly thanks to the content ideas and conversations Mado had during her 100 Conversations Challenge.
Are You Ready to Take the 100 Conversations Challenge?
If you're ready for massive clarity, download this free action guide to start your 100 Conversation Challenge!
16:55 The tactical methods of actually FINDING 100 people to talk to starting with Mado's personal network of yoga friends and colleagues which led to a ripple effect of referrals sending yoga teaches to talk with Mado about this project.
20:01 How the 100 Conversations Challenge builds the essential sales skills of asking for a conversation, listening, and asking for referrals without the stress of a sale to build up that muscle of ASKING.
21:44 How Mado figured out what to say during these conversations, starting with a list of potential questions but then allowing the conversations to dive deeper for a more nuanced understanding of what her potential clients were struggling with.
25:06 How long it took Mado to have 100 conversations, and how she made space in her schedule to make them happen.
29:16 Mado shares what her next steps looked like with this new clarity after this four-month experiment and how she's collaborated with her community to design her next level of business, plus the next big opportunity for yoga teachers to take their businesses online.
Are You Ready to Take the 100 Conversations Challenge?
If you're ready for massive clarity, download this free action guide to start your 100 Conversation Challenge!
---
Show Links
---
Guest Bio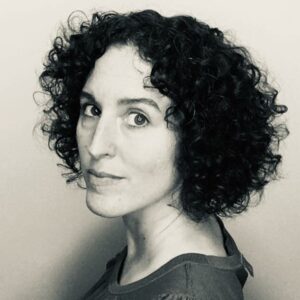 After teaching yoga for ten years, Mado Hesselink met her fairy godmother business coach. She appeared in her life just long enough to plant the seeds that good business and good yoga can co-exist.
Mado nurtured the seeds she planted by studying all things business, marketing, and productivity and to her surprise found a new passion: finding the places where business principles and yoga principles overlap in order to help yoga teachers make a bigger impact with their teaching.
Now Mado balance mothering a preschooler and a teenager, working in her home garden, producing the podcast, and working with talented and passionate yoga teachers to spread the benefits of yoga.