Like most children of the 80s and 90s, I was raised with a generation of girls who were told that we could grow up to have it all.
We could go to college. Break through the glass ceilings in corporate America. Bring home the bacon and fry it up in the pan.
We could achieve ANYTHING. And so we did.
More women than ever before are graduating college, scooping up Master's degrees, and becoming doctors, lawyers, and professionals. We have incredible women in powerful positions, sharing how we can Lean In to become leaders, executives, and CEOs in our industries.
And yet, despite all of the progress women have made in the workplace over the last few decades, it's simply not enough.
We're still struggling to close the wage gap. Still fighting for our rights to paid maternity leave. And still underrepresented as CEOs, executives, and leaders in every industry.
It explains why more and more women are breaking free from the old paradigm of climbing a corporate ladder to follow their own path into entrepreneurship.
After all, if the rules of the game aren't working, isn't it time to just change the rules?
Click To Tweet
In 2014, I had the honor of speaking to the US Chamber of Commerce Center for Women in Business. Afterward, I spent nearly 2 hours talking with women who want to create their own version of success.
As I talked with these amazing women entrepreneurs from around the US, I realized that too often, the only measure of success we focus on is dolla dolla bills.
While over 88% of women entrepreneurs never break the 6-figure mark in their biz? the honest truth is money is only ONE metric of success.
And don't get me wrong – a profitable business is an absolute must for business success. Unless you wanna have an expensive hobby, the biz has gotta pay the bills!
But when we're only focused on the money, then instead of creating a business that loves us back, we find ourselves in an abusive relationship with a business that demands 100% of our time and energy (leaving you 0 time or energy to enjoy any money you're making).
Too many entrepreneurs find themselves on a fast track to burnout (too often research shows 80% of new businesses crash and burn within the first couple of years).
How can we better set ourselves up for long-term success? What if we looked at all we really want in our lives and in our business? Could we set ourselves up to really and truly have it all?
You've gotta define what success means, to you.
In 12+ years of working with entrepreneurs, I've realized that many of us haven't stopped to define OUR version of success.
Without spending time answering this crucial question, we're setting ourselves up for disappointment while trying to meet someone else's version of success that just doesn't fit us, our lifestyle, or our family.
Clarity around your definition of success is incredibly empowering.
You gain a filter for decision-making, helping you to quickly assess if an opportunity is just a shiny object or a gold mine. It helps you to make space for what really matters in your life. And it becomes a tool you can use to strategically plan your business's trajectory.
Write Your Definition of Success!
Yes - you CAN have it all!

But first, you've gotta define what it all means to you!
Part 1: Your Life + Lifestyle
This might sound completely backward, but I've found over and over again that if you don't make space for what matters most to you in your life, you'll struggle to find space for it at all.
Have it all. Ask yourself:
If you could plan an ideal "regular day", what would it look like?
What about an entire ideal week?
How much time would you spend working? How much time do you take off?
What are your top 3 lifestyle non-negotiables (as in, you MUST have these in order to feel happy + fulfilled)?
If you could upgrade 3 things in your current lifestyle in the next 90 days, what would you upgrade?
Part 2: Your Family + Friends
Relationships are so important to women entrepreneurs, but too often we get so wrapped up in our businesses, that we struggle to have quality time with our own families, friends, and loved ones. Make sure you have all that and more!
Have it all. Ask yourself:
Who are your most important relationships in your life, right now (top 5 at least!)?
How often do you want to have quality time with these people in your life?
What does quality time with these people look like for you?
How often do you want to have a date night (or getaway!) with your partner?
When can you make more time for friends?
Part 3: Your Health + Wellbeing
Raising my hand right here because this is the area I often put LAST! But, having a clear picture of what you'd like to experience in your health, wellbeing, and body is an essential key to making time to care for yourself!
Have it all. Ask yourself:
Are you satisfied with your current state of health + well-being?
What does a healthy body look + feel like, to you?
How would you like your self-care to look each day, week, and month?
Are you making time each day to move your body (exercise)?
How do you nourish your body each day?
Write Your Definition of Success!

Yes - you CAN have it all!

But first, you've gotta define what it all means to you!
Part 4: Your Creativity + Self-Expression
We entrepreneurs are creative beings who love to learn, grow, try new things, and dabble with new hobbies! Spending time on your interests will help you be more refreshed + creative in your business!
Have it all. Ask yourself:
What do you do for fun?
Do you have other interests you'd like to explore?
Are there any classes you wish you could take?
What hobbies do you wish you had time to pursue (*hint* make some time!)?
Part 5: Your Personal Growth + Spirituality
When you're investing energy into filling your own love tank, you'll feel more grounded and empowered in life and business on each and every day.
Have it all. Ask yourself:
What mindfulness practices would you like to cultivate (meditation, journaling, yoga)?
How much quiet time do you need each day to sit with your thoughts?
What helps you to stay inspired and focused in your life and business?
How often do you need to fill your soul + spirit each week?
What are your favorite uplifting books and blogs to read?
So there you have it, friends!
1: Your Life & Lifestyle! How do you want to be spending your time and energy?
2: Your Family & Friends! Who do you want to spend time with? What does that look like?
3: Your Health & Wellbeing. How are you taking care of yourself?
4: Your Creativity & Self-Expression. How do you express yourself?
5: Your Personal Growth & Spirituality. How do you fill your inspiration tank?
Write Your Definition of Success!
Yes - you CAN have it all!

But first, you've gotta define what it all means to you!
So I hope that this helps you to start thinking about what Success on Your Terms really could look like, and even if you're not 100% in alignment with your definition of success, you're seeing opportunities to move towards it!
And if you loved this conversation, you'll love the Plan Your Best Year Ever Challenge! This 100% free 5-day challenge will help you design a 12-month action plan 100% around creating success on your terms. You can join me at RachealCook.com/best-year-ever!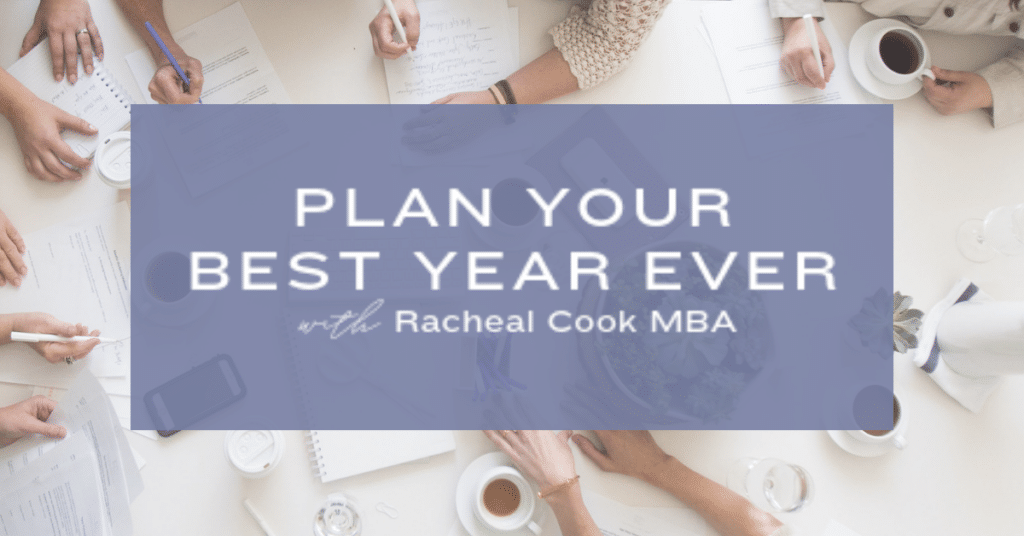 ---
Show Links
10 Things Sheryl Sandberg Gets Exactly Right In 'Lean In'
---
Subscribe & Review Promote Yourself to CEO
Did you know that you can find over 200 episodes on iTunes? I don't want you to miss an episode. I'm adding a bunch of bonus episodes in the coming months and if you're not subscribed there's a good chance you'll miss out on those. Click here to subscribe in Apple Podcasts!
And if you're loving the show – it would mean the world if you would take just a minute to leave a quick review! When you leave a review, it helps other women entrepreneurs just like you discover my show – and honestly, it just makes my day! Just click here to review, select "Ratings and Reviews" and "Write a Review" and let me know what your favorite part of the podcast is. Thank you!