Being in business FOR yourself doesn't mean being in business BY yourself.
I get it, being the CEO can be lonely, especially if you're dealing with all of the highs and lows without any support! You want people to pop the champagne with on your first five-figure day, and someone to call when your website crashes during a launch.
A Business BFF is an accountability partner, a mastermind buddy, a fellow entrepreneur who is RIGHT THERE with you taking action and learning what it really takes to grow a thriving business.
But it's so much more than that.
These are the peeps who are your first call when you hit the lowest of the low, when you're completely doubting yourself, when you're seriously considering throwing in the towel.
They are the ones who you cry to when you just had your third baby, you're feeling completely sleep deprived and crazy, and you need someone to validate that it's not only OK to take care of yourself, but it's the perfect time to make your business as easy as possible.
These are the women who jump in to support you when your website crashes during a launch to come up with plan B so you can keep up the energy and excitement.
Business BFFs are also the ones you pop the cork with to celebrate your first client, first launch, first 5-figure day. They are the ones who shout your name from the rooftops because THEY BELIEVE IN YOU even when you begin to question if your work is really making a difference in the world.
I would have never gotten here without the love and support and encouragement of this incredible circle of women I've surrounded myself with. It truly takes a village to raise a business!
And that's just the beginning.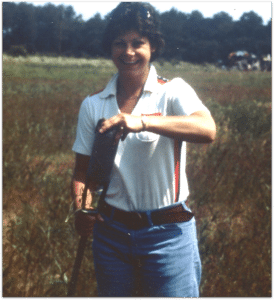 It wasn't until a conversation with my dad a few years ago that I really understood the power of Business BFFs. So it's no secret that I grew up in an entrepreneurial family with both my parents running their own show.
My amazing mom is quite possibly one of the most brilliant women on the planet who had a real passion for science and a toughness that couldn't be denied. She was one of the ONLY women to go into her field as a soil biologist. I can totally see her pulling up in her trusty Elcamino truck to a worksite to school the guys on what kind of development was safe, and not safe, for the environment. #totalbadass
And my dad is one of those guys who BRINGS THE PARTY. He just magnetically attracts people with his big personality and appreciation for a good time, which served him well in making connections and building relationships to grow his insurance business. Seriously, I can't go ANYWHERE in my hometown without him striking up a conversation with someone, and just by taking an interest in what is happening for them, *BOOM* new clients.
What I've never talked about is how one fateful day in July of 1987 would forever change all of our lives.
In the Summer of 1987, my parents were living the DREAM. Their businesses were both growing. They had three amazing kids – me (age 4), Katie (age 2), and the baby Lizzie (age 9 months).
To say that life was good is an understatement. We lived in an awesome house on the river with our own private beach. Literally – walk out the back door and THERE'S A BEACH (aka there's a party)! And because they were entrepreneurs who could set their own schedule, there were many many days of little kids wading into the tide-pools to catch minnows and trying to tip Mom out of her floating inner-tube while the grown-ups relaxed and partied by the driftwood bonfire.
And because they were both working parents, days that weren't spent being lazy on the river were spent at our Nanny's (our babysitter who was really like another grandmother) which we LOVED because it was a huge play-date with a handful of other kids each day.
Then one day, my mom dropped us off at Nanny's house and didn't come back.
I actually have no idea who picked us up that day. The next couple of years tend to be a big black hole in my memory that occasionally resurfaces as I continue to do my own deep inner work.
The day that changed our lives was a day that started off like any other day. Mom dropped the three of us off at Nanny's house, then went on to her office. She was the second car stopped at the light leaving Nanny's to turn left on Highway 17.
I often wonder what she was thinking as she sat there – especially now that I'm a mamapreneur – it was probably a jumble of biz + family to-do's for the day. Papers to sign. Calls to make. What was she gonna make for dinner that night.
Then as the light turned green and she started to make the left-hand turn to drive towards her office.
CRASH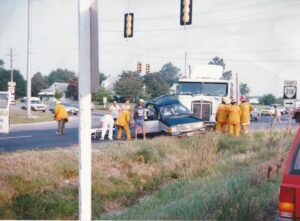 A tractor-trailer ran through the red light to T-bone the side of her mini-van on the driver's side door.
My mom was only 31 years old.
She had a husband and three little girls.
Her business was just a few years old (in fact, she started it the year I was born).
And everything was almost completely taken away in an instant.
The only thing that survived intact was my baby sister's car seat.
Everything else was a jumble of steel.
They had to use the Jaws of Life to pry the door off of the side of the van to get to her. And when they did, they weren't sure if she was alive, and if she was, would she make it?
By the time they finally pulled the door off the van and pulled my Mom out of the van, our lives had changed forever.
The injuries were severe.
No one was sure if my Mommy was gonna live.
She was unconscious. Battered. Bruised to hell.
Her injuries put her in a coma for nearly 3 months.
As a mama now in her 30s with three little kids, I can't even begin to understand how hard it would be to miss out on three months of this incredible life.
To not see Mitchell take his first steps?
To not see Juli take her first ballet class?
To not see Alex meticulously build his lego robots?
But that was exactly what happened for my mom.
By the time she woke up, she not only missed out on 3 months of our lives, but it took her months more to really remember us (yup – her kids), years to grieve missing out on those precious firsts, and a lifetime to come to terms with having her dreams taken away.
It's times like these that really show you who your true friends are.
When tragedy strikes a family, people come together and find ways to support one another.
My mom's younger brother and sisters left college to come home and help take care of the three of us. Dad's family and closest friends flew to Virginia from Michigan for weeks at a time. My Granny – she was an absolute angel who made it her personal mission to let us girls know how much we were loved (and told Pop-Pop off when I needed her to sleep in my bed nearly every night).
It's like this HUGE extended family came together to make sure that the three of us kids were taken care of so that my Dad could be Mom's advocate.
And my Dad – he will always be my hero who slept on the floor every single night by my Mom's bed in the ICU until she woke up that September, who fought the doctors when they said she might not ever wake up, and who I'm pretty sure punched an arrogant doctor in the nose when he said there's no hope.
Dad knew that Mom needed us. He fought the doctors and the hospital to let three little girls come in to visit their "sleeping" Mommy, to decorate her walls with pictures, to read her our favorite stories. He convinced them that we would be quiet and wouldn't be scared of all the ventilator helping her to breathe or the halo that was screwed into Mom's head.
And when she finally woke up, Dad made sure that we attended as many rehabilitation and physical therapy sessions as possible. One of the few clear memories that I have from this time was Granny taking us to the rehabilitation hospital where the physical and occupational therapists made sure include us kids in the process.
The accident left my Mom with a Traumatic Brain Injury.
Nearly three months in a coma.
Two years of intensive therapy (much of that in the hospital until she was strong enough to come home without a home health-care aide).
I remember clearly going to the rehab hospital for the physical and occupational therapy sessions with Mom. She relearned how to talk when my baby sister Lizzie was getting her first words. I clearly remember teaching her how to brush her teach and tie her shoes again.
Over time, she regained her strength. She relearned how to take care of herself. She learned how to use a wheelchair, then a walker, then walk with just a cane.
By the time we finally got to bring her home, she would never be as active as the other moms, but she was there! It was truly a MIRACLE that she not only survived, but was able to come home to reclaim her role as mama and caretaker of the three of us.
But she lost her business. Her work was not only intellectual, but physical. If she wasn't available to do the work, there was no revenue. No one could step in and take over. There was no way to continue her business during nearly 2 years of coma + rehabilitation + Traumatic Brain Injury.
That's where the Business BFF's stepped in.
Mom was the one in the coma, but my Dad was the one sleeping on the floor beside her hospital bed. He didn't leave her side UNTIL SHE WOKE UP nearly 3 months later.
Needless to say, he wasn't schmoozing new clients on the golf course or giving a presentation at the local Chamber of Commerce.
And with a business less than 2 years old, this could have been the end. Just two years into building a financial/insurance business, and suddenly having a huge family trauma.
If it weren't for my Dad's Biz BFFs, he may have never been able to be there with my mom.
He wouldn't have punched that doctor (who wanted to unplug her from life support) in the nose. He wouldn't have been by her side 24-7 for the next 3 months. He wouldn't have been able to make sure that I had my MOM growing up.
The thing is, Dad started his insurance business at the same time as about a dozen or so other amazing agents. They all went through the trenches of those first years together – attending insurance school, pounding the pavement to make sales calls, making hundreds of phone calls a day to bring in new business. These guys bonded. They were in the process TOGETHER. They were all doing their own thing, building up their businesses in neighboring towns, so there was no competition between them, just the friendly competition that comes when you wanna be the top agent in your district.
If you all happen to be reading this 'cause Dad forwarded it, please know how much I and my sisters and my family love you! There are not enough words to express the gratitude we feel, even if it's nearly 25 years later. You are a rare breed of man that truly understands what it means to love unconditionally.
And while my Mom was in the hospital, these guys would write in my Dad's agent number instead of their own, giving Dad the commissions they earned on a new insurance policy.
Because they believed in supporting one another in the good times and the bad.
Because they knew that this insane, heart-breaking situation could happen to any one of them.
Because they were all raising a family at the same time and couldn't imagine how devastating it would be to lose their partner.
There's a saying: "Put Your Money Where Your Mouth Is"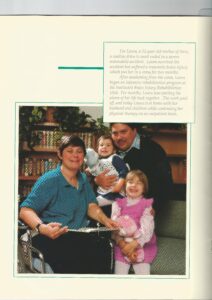 And these biz BFFs went above and beyond.
They helped my Dad stay afloat and encouraged him to get back on track once Mom was in rehabilitation.
They didn't want anything in return, they just cared about supporting the people they cared about.
They loved my parents, they loved my mom, they loved me.
And that's all that mattered.
To this day, these are the people who I continue to bless each night in my prayers.
I always knew that there was something incredibly special about this group of friends who grew their businesses together, raised all of their kids together, and went out of their way to make sure that my Mom could participate in EVERYTHING that the rest of us did.
These guys didn't just help for a little while then disappear. Seriously, they were part of our extended family growing up. We ran in and out of all of their homes like they were our own.
And now as adults, there's nothing more fun than when one of the kids gets married so we can all get together for a big party!
Now that my Dad is telling me these incredible stories of their generosity and support, it blows my mind. You just don't hear about people really stepping up to make a difference like that.
And now that I turn to him for advice on entrepreneurship, I realize the biggest lesson that he's taught me that's made a difference in my biz is one that he's been repeating over and over again throughout my life. Choose your friends wisely.
So I've made it a practice to cultivate meaningful relationships with other entrepreneurs over the years because I understand that the people I choose to surround myself with DO make a difference in my happiness, my support system and my success.
How You Can Become an Amazing Biz BFF
As an introverted soul, I've never been the type to attend every big event (they actually overwhelm me) or even feel comfortable meeting tons of new people all the time. I tend to keep a small but close group of friends (seriously, some of my oldest friends have been since Kindergarten). But most of my personal friends aren't entrepreneurs. So how have I found my Biz BFFs?
There are a few simple practices that have helped me connect with some of the most incredible entrepreneurs around the world:
Attend events
If you love working a room and meeting new people, you need to be attending conferences and live events. There is something about meeting your online friends in person that makes your relationship even stronger. If you're an introvert like me, partner up with an extroverted friend as your wingman! Seriously, I let my friend work the room, and when she finds someone she thinks I should meet, she sends em my way.
Get involved
Don't be a wallflower. If you're reading someone's blog post and it resonates with you, leave a comment and share on social! If you're in an entrepreneur group on Facebook, be helpful and answer other people's questions! If you're part of a program that has a community component, participant during the calls or inside the online community!
Connect 1×1
People KNOW that they should do this but not many do. The truth is, until you actually make time to deepen those relationships, you'll never have true Biz BFFs. For over 4 years now, I make it a point to connect with someone each and every week. Sometimes I meet people here in town for coffee but because most of my community is around the world, often we just schedule a time for a Skype date. These get-to-know-you calls have led to some great friendships, guest teaching or interview opportunities, and a deeper connection.
Let them know you care
When they share your blog posts, send them a thank you note! When they have a baby, send a gift! When you can tell that they're going through a rough time, pick up the phone and give them a call!
From my heart to yours, I hope this inspires you and encourages you to be the change you wish to see in the world. Even if you just touch one person's life, know that it makes a difference.
xo,
Racheal
PS. If you're wondering how my Mom is doing these days, she's amazing and loving being a Grammy to her 7 grand-babies, being an advocate for the Traumatic Brain Injury community, and an activist for the environment. Like I said, she's amazing!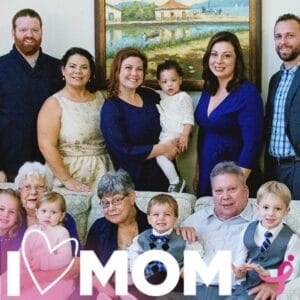 ---
Save Your Seat at the Next CEO Retreat!
If you're doing the work to take your money and business to the next level, check out The CEO Retreat – a 1-day strategic planning event focused on perfectly planning the next 90-days for your business.
If you know that you need to get your plan on paper, if you know that you need to surround yourself with other amazing supportive and intuitive women entrepreneurs, if you know that you need to turn your big picture into check-off-able action steps, then you will want to join us! Find all the details – and early bird tickets – at RachealCook.com/CEO-Retreat.
---
Subscribe & Review Promote Yourself to CEO
Did you know that you can find over 200 episodes on iTunes? I don't want you to miss an episode. I'm adding a bunch of bonus episodes in the coming months and if you're not subscribed there's a good chance you'll miss out on those. Click here to subscribe in Apple Podcasts!
And if you're loving the show, it would mean the world if you would take just a minute to leave a quick review! When you leave a review, it helps other women entrepreneurs just like you discover my show, and honestly, it just makes my day! Just click here to review, select "Ratings and Reviews" and "Write a Review" and let me know what your favorite part of the podcast is. Thank you!