If 2020 has taught us anything, it's that we must make our values explicitly clear in our brand, in our business and in the culture of our communities. We have seen the impact of what happens when people say one thing, but do another. So today, I'm excited to bring India Jackson to the conversation to talk about how to make your values crystal clear in your business and your marketing strategy.
On this episode of Promote Yourself to CEO
2:58 – How India has helped do a deep dive in my business and make my values crystal clear transforming how I show up in my business
4:41 – An introduction to India Jackson, who started as a bodybuilder, model, and published photographer moved into her role as CEO to Flaunt Your Fire and co-founder of Pause on the Play the community
7:03 – India talks about how she transitioned from modeling to creating a safe space for women to build the image they truly want
11:40 – How we should navigate the old school belief about not talking about personal beliefs, religion, and politics in our business
17:11 – As a small business it can be difficult to figure out the values of coaches, marketing strategists or website designers we want to work with, especially if they don't talk about them
20:11 – The steps and questions to ask yourself when creating a values based marketing blueprint for your business
29:04 – Examples of businesses who are doing a great job with their values based marketing
32:10 – India talks about how to market your values in your business
34:49 – As we think about being more explicit with our values, what should we do when someone disagrees or gets upset with us?
37:30 – India's workshop, From Implicit to Explicit: Leading Through Your Values Masterclass. Helping you lay out your values and identify which ones should be within your brand
Are You Ready to Take the 100 Conversations Challenge?
If you're ready for massive clarity, download this free action guide to start your 100 Conversation Challenge!
Show Links
---
Guest Bio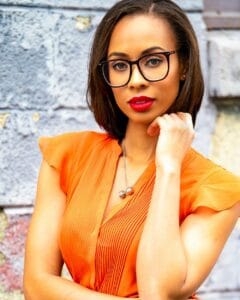 India Jackson is the CEO of Flaunt Your Fire and co-founder of Pause on the Play The Community where she helps entrepreneurs show up and own their power. From beauty model and bodybuilder to published photographer, for ten years India watched as talented professionals were forced to adopt identities that were sellable but not authentic. Her brand visibility agency and podcast now help clients ditch stale marketing tactics, break out of industry molds, and build authority by being themselves.
India is a first generation college graduate, earning a Bachelor of Art and Design while working full time and launching a business. She's been featured on stage at Altitude Summit, RebelleCon, and She Podcasts Live and is trusted by leading brands across North America, including Christian Dior.