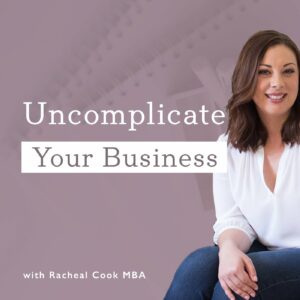 Hey there! Racheal Cook here. Welcome to the evolution of the Get Fired Up and Focused podcast as it becomes the Uncomplicate Your Business podcast!
A big thank you to all of you who have been encouraging me to get back into podcasting. If you've been subscribed to the Get Fired Up & Focused podcast, you might know that I released all 22 Episodes of the Get Fired Up & Focused Podcast as a series in August of 2015.
You can still go back to the first episode and go through all 22 episodes of the podcast series right now. It's all part of the Fired Up & Focused Challenge that I originally launched in January of 2014 to help entrepreneurs learn how they can plan prioritize and boost their productivity, finally stepping into their role as the CEO of their business and their life.
The Fired Up & Focused Challenge has easily been one of the biggest catalysts in the growth of my own business and it really shaped and the direction that I've been going over the last few years.
So as we launch this next phase of my podcast as Uncomplicate Your Business, I thought I would share a peek behind the scenes into my own journey and how things have evolved over the last few years.
When I originally launched the Fired Up & Focused Challenge in January of 2014, I was still under my brand The Yogipreneur. And it was that first Fired Up & Focused Challenge that really started to shift things for me I started to hear from more and more entrepreneurs who had found my challenge through their friends and their colleagues who were not Yogi's they were not running yoga business.
In fact when I surveyed the participants of the first round of the Challenge, I was blown away to realize that yogis only made up about 35% of my audience!
I started to hear from more and more entrepreneurs who were interested in what I was talking about around the Fired Up & Focused Challenge and around growing your business. The first question they would ask me was I'm not a yogi but I'm a life coach… I'm not a yogi but I'm a creative entrepreneur… I'm not a yogi but I'm a holistic Healthcare practitioner… can you still help me?
I started to realize that my message was reaching out to a larger audience – a bigger community of heart-centered entrepreneurs who deeply believes in the work that they were here to do but all had the same struggles and challenges:
How do you grow a business to multiple 6 and even seven figures without working more hours and adding more stress?

How can your business help you to create more freedom, more ease, and more abundance?

How do you grow a business and still enjoy a beautifully full life?
And after hearing from tens of thousands of heart-centered entrepreneurs I knew that it was time. It was time for me make the leap into my personal brand at RachealCook.com where I could reach and serve millions of incredible heart-centered entrepreneurs.
If you've been struggling to grow your business (and actually have time for a life), you're not alone. I've found that most women entrepreneurs are working way too hard (for way too little ROI), all because they are trying to do #ALLTHETHINGS to grow their business.
But the truth is – you don't have to be everywhere or follow all the rules to be successful. You can create success on your terms.
If You're Ready to Replace Overwhelm + Burnout With Freedom, Ease, and Abundance? You're In the right place.
The Uncomplicate Your Business Podcast is here to help.
Who am I? I'm your host, Racheal Cook, an award-winning business strategist who truly believes entrepreneurship doesn't have to be so complicated.
I'm the creator of the Fired Up & Focused Challenge, Get More Clients, and Sweet Spot Strategy and author of two Amazon Bestselling books in Entrepreneurship and Small Business, Fired Up & Focused and Your Business Sweet Spot.
I work with women entrepreneurs who are ready to get strategic and laser-focused about working smarter, not harder, to build a business you love with a lifestyle to match.
In the upcoming episodes, I can't wait to take you behind the scenes of what it really takes to build a multiple-six and even seven-figure business… without the burnout or overwhelm.
Uncomplicate Your Business is where you'll find real talk and real strategy to help you achieve your big business dreams. From doubling your business next year to breaking free from the feast or famine cycle to paying yourself first, we're here to help you design a successful business on your terms.
And we're going to kick things off in the next episode by taking a real look over the couple of years in my business going through this journey from The Yogipreneur to RachealCook.com, including a head-to-toe $35K rebrand and how we landed on the message, Uncomplicate Your Business.
It's been a huge work in progress; anyone who has a podcast already knows that it's no easy task to get a podcast up and running. So thank you for taking the time to listen!
Thanks again for being here. I can't wait to connect with you again for the next episode of Uncomplicate Your Business. Talk soon!
---
Show Links
Subscribe to Uncomplicate Your Business on iTunes
The Fired Up & Focused Challenge
Get Fired Up & Focused Podcast Series